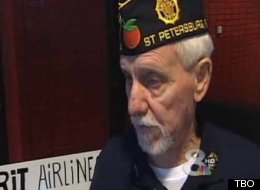 Jerry Meekins
For those who missed it, yet another special exception was made for a certain group of Americans that is already uniquely privileged among the worker classes.
Here's the original response from Spirit that some folks didn't much care for...
We receive many requests for refunds every day for similar situations. It wouldn't be fair to bend policy for one and not all. We will not make customers who follow the rules pay for those who don't. It's just not fair.
Followed by a full refund along with another $5,000 in charity for veterans...
In my statements regarding Mr. Meekins' request for a refund, I failed to explain why our policy on refunds makes Spirit Airlines the only affordable choice for so many travelers, and I did not demonstrate the respect or the compassion that I should have, given his medical condition and his service to our country. Therefore I have decided to personally refund Mr. Meekins' airfare, and Spirit Airlines will make a $5,000 contribution, in his name, to the charity of his choice, Wounded Warriors. We have worked hard to build a great company that makes air travel affordable while making our employees proud and customers satisfied. All of us at Spirit Airlines extend our prayers and best wishes to Mr.Meekins.
Link:
Spirit Airlines bows to pressure from veterans groups...
------------



Yeah, I see that. Sorry...some sites are finicky about that.

I don't think it's the site that's being needlessly finicky.


I'm going to take exception to the idea that I would need to log into a site to get a cost for a flight from A to B or for a round trip from A to B and back. Yes, it can be ducked, but I think that barrier is worth taking exception to.

I think your bogus airline punditry is worth taking exception to.