Help Support AmtrakTrains.com by donating using the link above or becoming a Supporting Member.
India train crash in Uttar Pradesh leaves 23 dead
Started by
caravanman
,
Aug 20 2017 07:33 AM
Posted 20 August 2017 - 07:33 AM
Sad news from India:
http://www.bbc.co.uk...-india-40989369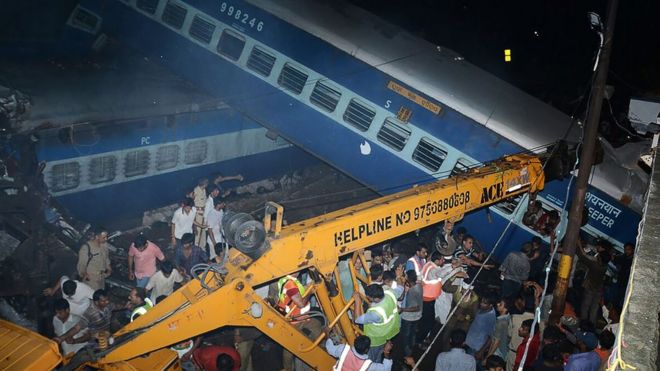 Ed.
---
Posted 20 August 2017 - 07:46 AM
So sorry to hear this. It seems like there are many accidents on the India rails. Of course there are so many people and trains moving in the country that it is difficult to assess whether the number is % wise larger than other places.  Our thoughts to the families and friends of those who were lost.
Amtrak Trains Ridden So Far:    86,889 miles and counting
Lake Shore Ltd, Capitol Ltd, Pennsylvanian, NE Corridors, Crescent, City of New Orleans, Empire Builder, California Zephyr, Hoosier, SW Chief, Surfliners, California Capitol Corridors, Coast Starlight, Cascades. Texas Eagle, San Joaquins, Missouri River Runner,Cardinal, Downeaster, Silver Meteor, Keystones, Auto Train, Adirondack, Lincoln Service, Illinois Zephyr, Carl Sandburg, Texas Eagle Detour Rt, 2013 Autumn Express Tour PHL, Silver Star, Sunset Limited -Acela Express-  2015 Autumn Express ALB - Empire Service Via Rail Corridor Trains Cobourg-Ottawa-Montreal,(round trip)  The Ocean (round trip)--   2,250 miles
---
Posted 21 August 2017 - 03:24 AM
It transpires that the track was under repair, but the "slow order" signals and warnings were not in place...
"It is a major coordination lapse. Our repairmen had removed a small section of the track and were in the process of replacing it when the Utkal Express came down the tracks at a speed of 100 kmph. Clamps and tools have been found near the accident site to indicate repair work was underway. The officials at Khatauli should have known. The PWI (permanent way inspector) should have informed them," said a senior Northern Railways official at the spot, who did not want to be named.
http://indianexpress...atauli-4805997/
Ed.
Edited by caravanman, 21 August 2017 - 03:24 AM.
---
---
0 user(s) are reading this topic
0 members, 0 guests, 0 anonymous users