You may have heard about a proposed Oklahoma City - South Texas Corridor being in the works. The corridor is currently in the Draft EIS phase, which should be complete fairly soon, according to an July 2016 news article.
An Aug 2016 news article mentions the following:
"Two potential South Texas routes were selected for further study, according to [Rep. Henry] Cuellar. The first would originate in San Antonio and travel south outside of existing transportation corridors to a station near the Laredo-Columbia Solidarity Bridge. That route would then cross on a new railway bridge to join a new rail line which would continue to Monterrey, Mexico.
Cuellar said that route would have the potential for high-speed rail service, with trains traveling at speeds of 180 to 220 miles per hour.
The second route would begin in San Antonio and travel southeast to Alice. At Alice, the route would divide into three legs. The first leg would travel to San Diego, Texas and then to the Laredo area. The second leg would travel south along abandoned railroad tracks to McAllen and east to Harlingen and Brownsville, while the third would travel east along the KCS Railway to Corpus Christi."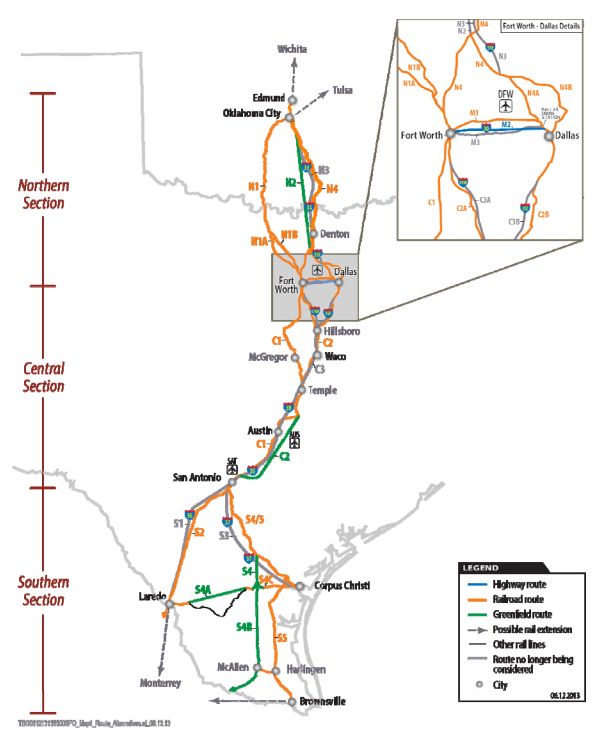 I'm in favor of the second route because it would serve all of South Texas' major cities (Laredo, Corpus Christi, Brownsville, and McAllen), while the first option would only serve Laredo. For the OKC - SAS segment, I presume it would be cheapest to use the existing routes of the Heartland Flyer and Texas Eagle, as the stations already exist. To simplify negotiations with BNSF, the FTW - SAS portion could use the time slot currently used by the Texas Eagle, with the TE being rerouted to continue west of FTW and make the Sunset Limited connection in El Paso. This would also simplify operations on the TE by allowing it to run on an all Union Pacific routing.
http://offthekuff.com/wp/?p=75450
http://offthekuff.com/wp/?p=75688
Tell me what you think about this.
Edited by Anthony V, 19 January 2017 - 12:23 PM.